URBAN AMOEBA Shenzhen Bay Checkpoint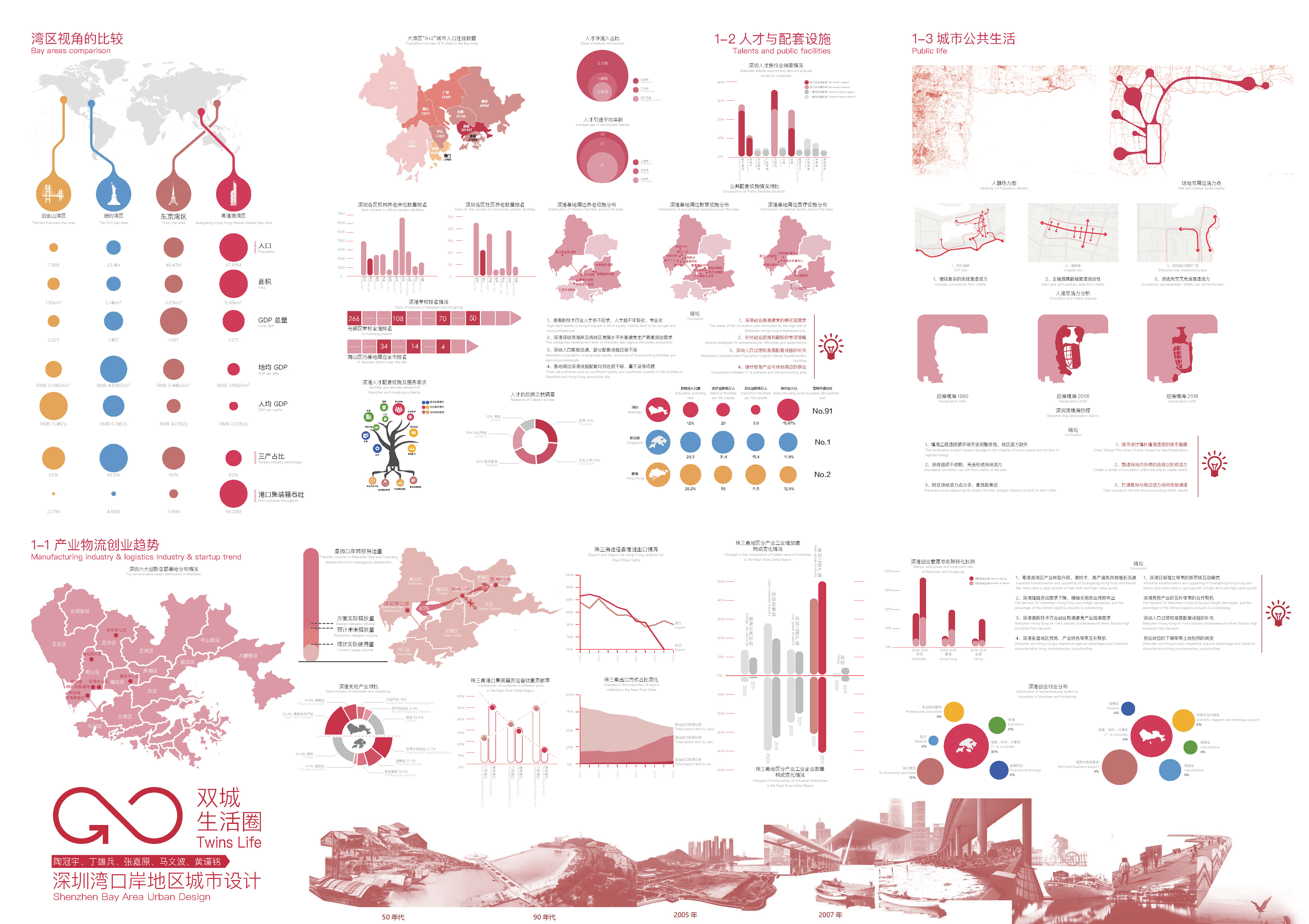 This is a group project about urban planning and design, which is modified from the graduation project. It aims to increase the density of a low usage cargo for Shenzhen Bay checkpoint. The site covers approximately 120,000 square meters, includes a cargo area, residential area, creative industry area, and community facilities. I lead the whole team and mainly design a creative industry area.
History

The Shenzhen Bay Checkpoint is the largest one among the eight checkpoints between Shenzhen and Hong Kong. Since the return of Hong Kong, services like cargo and visitor transportation have increased yearly. The Shenzhen Bay Checkpoint is designed and projected with a more significant portion of cargo transportation while less visitor transportation. However, along with Mainland China's economic boom, there is a rapid growth of tourists to Hong Kong, but the local freight transport decreased. That situation also brings about the crowding in the checkpoint, makes the cargo transport almost empty. By analyzing the policies and using algorithms with traffic data, we predicted that 50% of usable land in the cargo. These lands transform into grassland, entertainment areas, community facilities, and creative industries.
Design
The project is designed strategically with low height dense development, second-floor capillary platform, function dominate planning. Introduced industries include logistics, entertainment, creativity incubator, and real estate. Based on the context analysis, the logistic function sets in the north, real estates and community facilities are placed in the middle part. At the same time, creative industries are assigned in the south. The whole area is connected by a broad second-floor pedestrian platform and several light rails, while cargo transportation is placed underground. People, cars, lorries would be active in separated elevations, and traffic noise is limited below people's area. The whole site is planted with botany suitable for the local environment instead of a large plank of concrete.
The second-floor platform connects every building. A freestyle figure is inspired by myxobacteria, which builds graceful connections between objects. Therefore, the platform exhibited organic and bionic design concepts and created environmental-friendly work and living space with trees and flowers far away from vehicles. Specifically, containers, symbolized as a sensed of Inclusiveness, can be placed in the free zones. In the Industry Zone, amenities such as food courts and a Ferris wheel will be built for recreational purposes. They are encouraging the tourists to attend Product Show host by small-sized enterprises. The Creative Industrial Zone is central to the design supported by government policy, gauging for more adequate facilities, living and recreational space essential for the small firms.
Year
2018
Shenzhen University School of Architecture
Graduation Design
Instructor:
Yun Li
Teammate:
Jiayuan Zhang / Xiongbing Ding
Wenbo Ma / Jingming Huang
NEXT